On Sale
SDGs Magnetic Lapel Pins (two-pack)
This magnetic SDGs pin is identical to our authentic, iconic SDGs Lapel Pin, but it attaches differently! Each authentic magnetic SDGs pin has 17 colors, one for each of the SDGs! 
The magnetic clasp means you can protect and care for delicate fabrics – while still supporting the Sustainable Development Goals.  
Be inspired by UNDP's Goodwill Ambassador and Academy Award winner Michelle Yeoh: wear your original SDGs pin wherever you go! Looking for the classic SDGs lapel pin with butterfly clasp? Find it here.

More on this product
Attaches to almost anything: shirts, jackets, hats, scarves, refrigerator doors, and other metal surfaces. And its quick-release design means you can move it between outfits faster than you can say "SDGs".  
Quick facts
Strong magnet clasp

 

Easy to remove and attach 

 

Protects delicate fabrics

 

Two pins per order/pack

 
Dimensions
1" (2.5 cm) diameter 
Components
Each single order contains 2 magnetic SDGs lapel pins:  
2 "wheels" in silver metal, with official 17 colors. 

 

2 magnetic clasps

 
(CAUTION: Keep magnet away from heart pacemakers or other medical devices sensitive to magnetic fields.) 
This product may be subject to shipping taxes and duties upon delivery. Check out our FAQs and learn more about our shipping and duties policies.
This product is available for pre-sale only at this time. We will ship everything in your order as soon as this product is ready.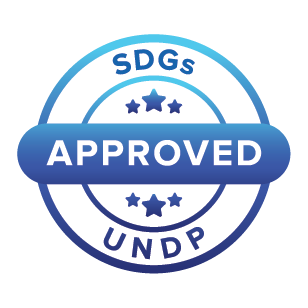 Authenticity guarantee
This authentic SDGs and United Nations Development Programme product is made with integrity and quality in mind. Your purchase will help support UNDP's work.