On Sale
UNDP / PNUD Lapel Pin (two-pack)
Pick your own 2-pack of classic SDGs Lapel Pins, with a choice of "UNDP" or "PNUD" logo – or get one of each! Select your combination below. Exclusive to UNDP Shop.  
Did you know: PNUD stands for 'Programa De Las Naciones Unidas Para El Desarrollo' in Spanish, and 'Programme des Nations Unies pour le développement' in French. 
More on this product: 
Made with hard enamel and a solid metal backing, get the UNDP/PNUD lapel pin for your next event, employee gift, or just to show your appreciation of the United Nations Development Programme. 
Quick facts: 
Butterfly clasp 

 

Enamel Pin

 

Silver trim, backing  

 

Solid, durable metal

 

Two pins per order
Dimensions: 
1' (2.54 cm) x 0.5' (1.27 cm) 
Components: 
Each single order contains 2 lapel pins:  
2 Pins

s2 Butterfly backing
The UNDP pin is in stock and ready to ship. The PNUD pin is made to order and has a 4-6 weeks lead time. Please get in touch with us via the form here to place an order.
This product may be subject to shipping taxes and duties upon delivery. Check out our FAQs and learn more about our shipping and duties policies.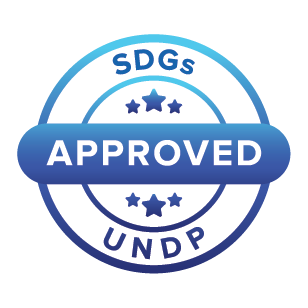 Authenticity guarantee
This authentic SDGs and United Nations Development Programme product is made with integrity and quality in mind. Your purchase will help support UNDP's work.