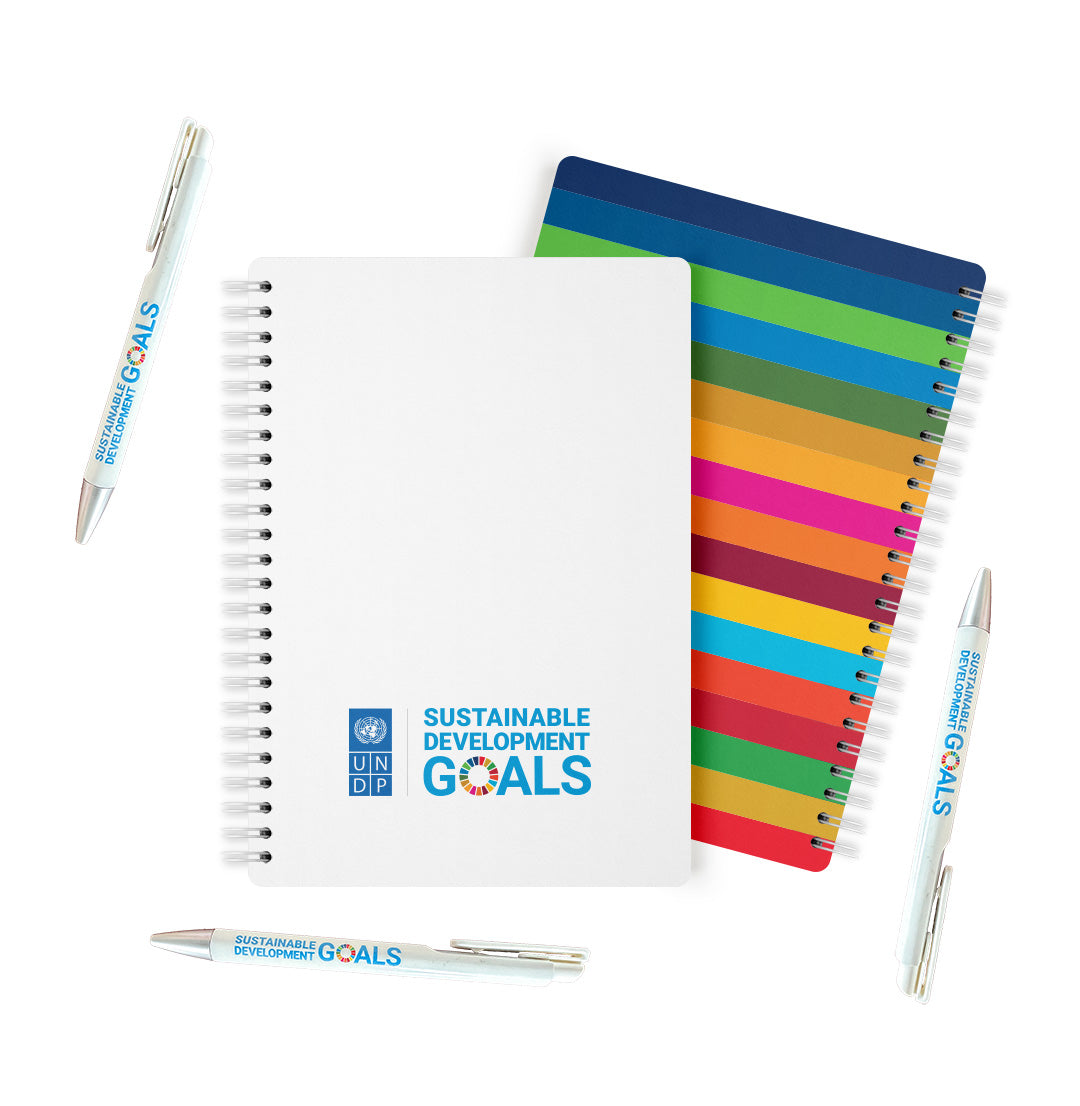 78 Reasons to Take Notes
Check them all out, below.
And enjoy the 78th session
of the United Nations General Assembly.
SHOP NOTEBOOK + PEN
1. We have the perfect notebook and pen.
2. No battery or adapter required.
3. Ideas can change the world.
4. Your boss will be impressed.
5. Only 7 years to achieve the SDGs.
6. It forces you to focus.
7. What you do matters.
8. UNGA is but once a year.
9. The pen is free with notebook, or vice versa.
10. Because the future is hopeful.
11. It's like school, only better.
12. Think in words before you act upon them.
13. Our notebook is made from recycled material.
14. The Sustainable Development Goals.
15. Works in every language.
16. It's proactive.
17. Where inspiration lands.
18. Not everything has to be digital first.
19. A sketch is worth a thousand words.
20. It's undeniably productive.
21. UN Web TV might be watching you.
22. Separates the wheat from the chaff.
23. Great to refer back to.
24. Increases your understanding.
25. No one will be able to read your handwriting.
26. Sparks questions.
27. You'll never need a Wi-Fi password.
28. Helps you remember someone's name.
29. Helps you remember everything.
30. It's universal.
31. No distracting texts.
32. Many important debates.
33. Listening matters.
34. Revive your childlike imagination.
35. Lighter than a laptop.
36. Get your handwriting analyzed.
37. The greatest writers do it.
38. There's no such thing as a bad idea.
39. Supports reflection.
40. Your first thoughts are unfiltered.
41. Don't rely on other note-takers.
42. It's a valuable life skill.
43. Everyone will be on the same page.
44. Notetaking leads to spearheading.
45. Quieter than tapping a keyboard.
46. Emphasizes and organizes information.
47. Practice your shorthand.
48. Partly why UN acronyms were invented.
49. The Secretary-General does it.
50. Underlining with a pen feels decisive.
51. UNGA 78 is more than a number.
52. Old-school works too.
53. UNGA tip: bring a backup notebook and pen.
54. To write is to create.
55. Your brain needs it.
56. Notebook note: once filled, never trash.
57. It shows you care.
58. Defies writer's block.
59. Instant ALL CAPS and lower case.
60. Promotes recall.
61. Gift your whole team, compare notes later.
62. You're more attentive.
63. A new notebook is like a fresh start.
64. You'll be "on brand" with these SDG items.
65. Helps you to concentrate.
66. Write your UNGA story.
67. Student gift? They love future-retro.
68. SDG branding matches any outfit.
69. Blue ink spells diplomacy.
70. Track your own goals – and Goals.
71. Perfect prop for a Secretariat selfie.
72. Spare notepads make great gifts.
73. Colleagues will want your new notebook.
74. It's 120 pages of opportunity.
75. No need for airplane mode.
76. Penmanship is a dying art.
77. Bad handwriting is also a dying art.
78. Pen and paper – how 78 Reasons all began!
---
---